Extended Cell Test System (XCTS) Series
The XCTS cell test and formation system from BaSyTec is a cost effective solution for the testing and formation of large quantities of Li cells with up 25A or 50A.
The innovative design incorporates energy recovery, so ensuring that the heat generated is significantly reduced and results in lower running costs.
Like all BaSyTec systems the system hardware is programmed using BaSyTest software. Once the program is running the PC can be disconnected (intentionally or not) and the system will continue to operate and collect data using internal buffers on each channel. The system can run for prolonged periods in this way and is only limited by the amount of data being collected. All data is automatically synchronised back to the PC once a connection is re-established.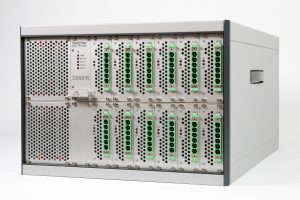 Test of high volumes of lithium cells
High power testing for lithium cells
Pulse testing for lithium cells
Formation of lithium cells
Cell matching
XCTS 25A – Specification
Maximum current: 25A
Channels per unit: 12 or 24
Voltage range: 0-4.5V
Voltage precision: 2.5mV
Voltage resolution: 0.1mV
4-wire measurement: Yes
Min. discharge voltage: 800mV
Current precision: 50mA
Current resolution: 1mA
XCTS 50A – Specification
Maximum current: 50A
Channels per unit: 6 or 12
Voltage range: 0-4.5V
Voltage precision: 2.5mV
Voltage resolution: 0.1mV
4-wire measurement: Yes
Min. discharge voltage: 800mV
Current precision: 100mA
Current resolution: 2mA
XCTS (all models) – Specification
Measurements per channel: Voltage / Current / Temperature
Temperature input type: NTC 5k
Time resolution: 1uS
Rise time: <10mS
Minimum pulse length: 10mS
Control mode: Current / Voltage / Power / Resistance / Combination
Interface: Ethernet