**NEW AND IMPROVED 
The H-Cell is designed for membrane and separator characterization in a liquid environment. Measure resistance, conductivity, permeability, cross-over, and selectivity.
The H-Cell Kit includes two (x2) each of the following:
Glass half-cell
PEEK cap assembly with O-rings and plugs
Luggin tube with Teflon mount
Inlet with frit and outlet tube
PET Cell Holder and Clamp
Low Profile Silver/Silver Chloride Gel Reference Electrodes
Pt wire coil CE/WE/Drive Electrodes
Other Reference and Drive Electrodes types subject to availability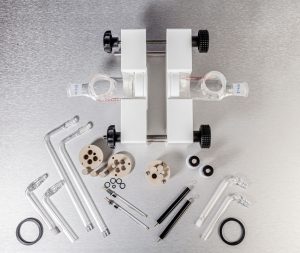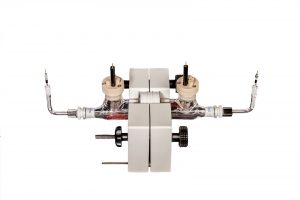 Features
Small volume, easy-to-use, robust design
Non-reactive materials of construction
Pt or Au CE/WE electrodes
Selection of reference electrode types
Adjustable Luggin probes
Ports for purge gas & temperature sensor.
Specifications
Electrodes
Application Notes