Multi-Channel Potentiostats
There are many experiments where the ability to make multichannel measurements is an advantage or even required.  These split broadly into 3 distinct categories:
True Multi-potentiostat operation: where each "channel" provides stimulus / response to an independent cell (WE, RE, CE) simultaneous to the other channels.
Multiplexed operation where a single potentiostat is shared amongst multiple cells by a programmable switch (called a Multiplexer, or a MUX for short). Typically this switches the RE, CE and WE from cell to cell sequentially.
Where a cell contains multiple WE's and a shared RE and CE, this can be addressed by a "polypotentiostat" (A bipotentiostat is a subset of this general classification.)
This link here will take you to a useful document from PalmSens which gives more details on the differences. 
Note that, within these broad categories there is significant variation and some overlap so, if you have such an application we recommend that you contact us and we will be happy to advise you.
Each channel is a functionally independent potentiostat.
With up to 10 PalmSens4 modules per mainframe this flexible system also offers optional galvanic isolation (floating operation) per channel.
Comes with either  4, 8 or 12 independent Emstat3/3+ potentiostats within a chassis. Supplied with MutiTrace software.   Galvanic isolation (floating operation) is optional.
Multiplexers are switches.  A multiplexed solution switches a single potentiostat connections sequentially from cell-to-cell. (Sometimes so quickly that they can be considered "simultaneous" – and so have Polypotentiostat functionality – but with a known inter-channel time lag)
HiMUX.XR: Multiplexer providing 8 independent channels, each with 5 electrodes. The HiMUX.XR's electrometer-per-channel design prevents glitches when switching between cells.
Requires a compatible Ivium potentiostat.
EmstatMUX8-R2 USB-powered potentiostat with integrated multiplexer.
MUX8-R2 USB multiplexer only.  May be used with a range of potentiostats from PalmSens.
MUX16: This multiplexer allows the usage of a single PalmSens or EmStat Blue with up to 16 electrochemical cells, by switching between the different cells. A great way to raise efficiency
uMUX: Multiplexer providing 8 independent channels, each with 5 electrodes.
5 Amps per channel. Requires a compatible Ivium potentiostat.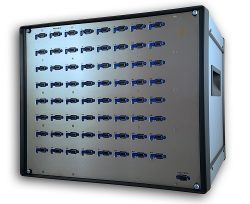 NEW uMUX64 – 64 channel multiplexer – multichannel EIS.
An alternative to purchasing 8 standard uMUX modules, this custom unit was designed for a requirement to retrofit multichannel EIS to an existing battery cycler installation. Works with compatible Ivium potentiostats.  Please contact us for more details via our contact form here.
These allow experiments on cells with multiple WE's, one CE and one RE.  By incorporating a single potentiostatic control loop they avoid instabilities.
Hybrid Solutions: Note that Ivium's MultiWE32 (polypotentiostat) can also be used as a sequential multiplexer and PalmSens's EmstatMUX8-R2 (multiplexer) can be used as a polypotentiostat for time related techniques such as Chronoamperometry.  Please contact us to learn more.
MultiWE32:  Controls up to 32 WE's simultaneously vs 1 CE and 1 RE! Designed for low current applications such as nanotechnology sensor development, analytical electrochemistry, biotechnology and medical research.
Requires a compatible Ivium potentiostat.