Multi-Channel Potentiostats
Alvatek offer a wide range of multi-channel potentiostats in different configurations including…
Bipotentiostats
Multiple WE (more than 2) potentiostats
Multiplexed single potentiostats (with either all electrodes multiplexed or multiplexed WE with a single CE and RE)
Multi-potentiostats (2 or more complete potentiostats in one integrated solution, with and without EIS)
The MultiPalmSens4 is a flexible, modular, multi-channel potentiostat, galvanostat and impedance analyzer.  MultiTrace software allows for using each channel individually or simultaneously or running a sequence of automated tasks on each channel. Each channel provides an additional auxiliary port for controlling peripherals or monitoring temperature or other analog signals.
Houses up to 10 independent potentiostats each with EIS.
±5 V or ±10 V potential range
EIS/FRA with maximum frequency of 100 kHz or 1 MHz
Bipotentiostat module for second WE
iR-Compensation
Galvanic isolation
The MultiEmStat3/3+ is a versatile multipotentiostat with 4, 8 or 12 independent EmStat3,or Emstat3+, potentiostats.
The channels can perform experiments independently of each other, and each channel is capable of the full range of techniques that an EmStat can offer.
MultiEmstat is supplied with MutiTrace software.
MultiEmstat3: 
to 15mA (20mA typical)
+/-5V Compliance
MultiEmstat3+:
NEW – Vertex.Q
The Vertex.Q includes 4 potentiostats in a single portable unit. Each is an independent potentiostat, galvanostat and impedance analyzer.
4 Potentiostats inc Galvanostat
+/-30mA, +/-10V
EIS Option: 10uHz to 1MHz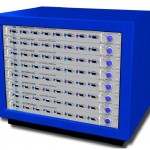 OctoStat30/200/5000:  8-channel multipotentiostat with either 30mA, 200mA or  5A per channel.  Each channel of this stackable 8-channel unit has dedicated embedded FRA, 20M datapoints locally stored, is fully independently operated, and has dedicated software for battery and corrosion testing.
As shown here, multiple Octostats can be configured in blocks of 8 to create large channel count systems.
Dedicated embedded FRA / EIS
20M datapoints stored locally
Once the method has been started the channel will operate fully independently of a PC
New dedicated software for Battery and Corrosion testing
The Ivium-n-Stat is a state-of-the-art multi-channel potentiostat-galvanostat with integrated impedance analyser in each channel It is the affordable solution for all electrochemical research that requires simultaneous control of multiple cells. Each module can be operated in floating mode via software selection.  
NEW IVICycle – Low Cost 32 Channel System  Stackable to build high channel counts systems, this reduces cost per channel in a 32-channel modular unit.  Designed with batter and corrosion applications in mind the system was designed to drive down cost whilst preserving Ivium's commitment to per-channel, simultaneous EIS. 
Multipotentiostat system – 5 electrodes inc Reference Electrodes.
C030: 8 channels, each channel: ±30mA / 10V
C200: 8 channels, each channel: ±200mA / ±10V
FRA/EIS: 10µHz-20kHz on each channel for simultaneous testing
MultiWE32:  Controls up to 32 WE's simultaneously vs 1 CE and 1RE! Designed for low current applications such as nanotechnology sensor development, analytical electrochemistry, biotechnology and medical research.
Requires a compatible Ivium potentiostat.
Specs per channel:

max. current: ±1 mA
potential offset: max. ±2 V, 0.0625 mV resolution
sequential or simultaneous mode
Potentiostat Modules and Accessories
HiMUX.XR: Multiplexer providing 8 independent channels, each with 5 electrodes. The HiMUX.XR's electrometer-per-channel design prevents glitches when switching between cells.
Requires a compatible Ivium potentiostat.
Low Noise
No switching transients
1000Gohm // < 8F
16MHz bandwidth
±5A and ±20V
Stackable to 8 modules (64 channels)
NEW uMUX64 – 64 channel multiplexer.
An alternative to purchasing 8 standard uMUX modules, this custom unit was designed for a customer requiring a solution for adding multichannel EIS to an existing installed, high channel count, battery cycler system. This is compatible with all Ivium potentiostats.  Please contact us for more details via our contact form here.