MMA900/910 Multichannel Microelectrode Analyzer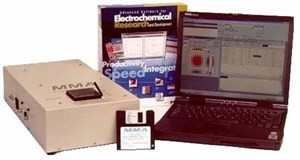 The Scribner Associates Model 900B Multichannel Microelectrode Analyzer (MMA) is designed for use with macro- and micro- scale electrode grids, segmented striplines and other spatial electrode or sensor arrays. Applications include:
Corrosion studies
Current distribution analysis
Biosensors
Chemical sensors
Simulated and real crevice monitoring
Under film and delamination studies
Plus, a host of novel applications
It has been designed to be a flexible tool for electrochemists wanting to study small, multielectrode systems or sensors.
Features:
The Model 900B MMA is equipped to measure 100 Working Electrode current channels with sensitive ZRAs and/or measure electrode segment potentials with high impedance electrometers.

The on-board microprocessor based data acquisition system with 16-bit converters

provides a wide dynamic range and low noise current and potential measurement.

The 100 channels of analog signal conditioning is divided into interchangeable electronics groups of 10 channels each.

The signal processing electronics are integrated closely with the test electrode socket for minimum signal path length and optimum shielding.