PAT-Cell-HT: Heat-resistant PAT-Cell for up to 200 deg C.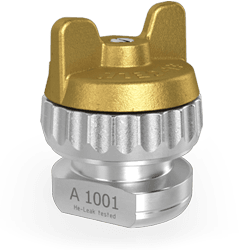 Our PAT series test cell for 2- or 3-electrode testing at elevated temperatures
The PAT-Cell-HT is a test cell for 2- and 3-electrode measurements on battery materials at temperatures up to 200°C. It uses the modular PAT-Core concept and can therefore be used for a variety of test purposes. The cell has no wiring but is inserted directly into a PAT battery tester or connected to any commercially available battery tester / potentiostat via a PAT docking station. In order to fully utilize the temperature range up to 200°C, we recommend using the PAT-Heater-4 docking station.
To meet the challenges of battery tests at elevated temperatures, we offer a special version of the PAT-Core insulation sleeve. This reusable sleeve is made of PEEK (rather then PP) and is especially useful for the investigation of solid state (ceramic) electrolyte membranes. Just like the standard PP sleeve, the PEEK sleeve can be equipped with different reference materials such as lithium, sodium or magnesium. The standard current collectors (plungers) complete the PAT-Core. Available plunger materials are aluminum and copper (for single use), or stain­less steel 316L and PEEK (for reuse).
Complete test setup with PAT-Tester-x and PAT-Heater-4
With the development of our own potentiostats / galvanostats / impedance analyzers, the PAT-Tester series, we are now able to offer you complete setups for your experiments. For tests with the PAT-Cell-HT we recommend the use of our heated docking station, the PAT-Heater-4 in combination with a 4-channel PAT-Tester-x-8. This flexible setup is characterized by its low space consumption and easy handling and allows you to efficiently test your battery materials up to 200°C.
PAT-Tester-x-8 U
The PAT-Tester-x-8 offers maximum flexibility with up to 8 channels for small scale and special purpose testing.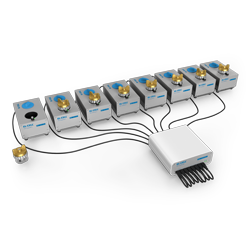 PAT-Heater-4
The PAT-Heater-4 is a heated docking station connecting up to 4 PAT-Cell-HT to any potentiostat or battery tester. The working temperature is adjustable from 10°C above ambient temperature up to 200°C. The PAT-Heater-4 saves wiring effort, because it is not necessary to renew the connection between cell and potentiostat for every battery test. However the easy-to-access banana sockets at the side of the docking station allow for flexible wiring.
The PAT-Heater-4 is the temperature controlled docking station for parallel electrochemical tests with high temperatures up to 200°C.
Please note that only PAT-Cell-HT test cells can be used in the PAT-Heater-4. You cannot use other PAT test cells there to prevent damage to cell components that are not designed for high temperatures.