Dual Area Fuel Cell Fixture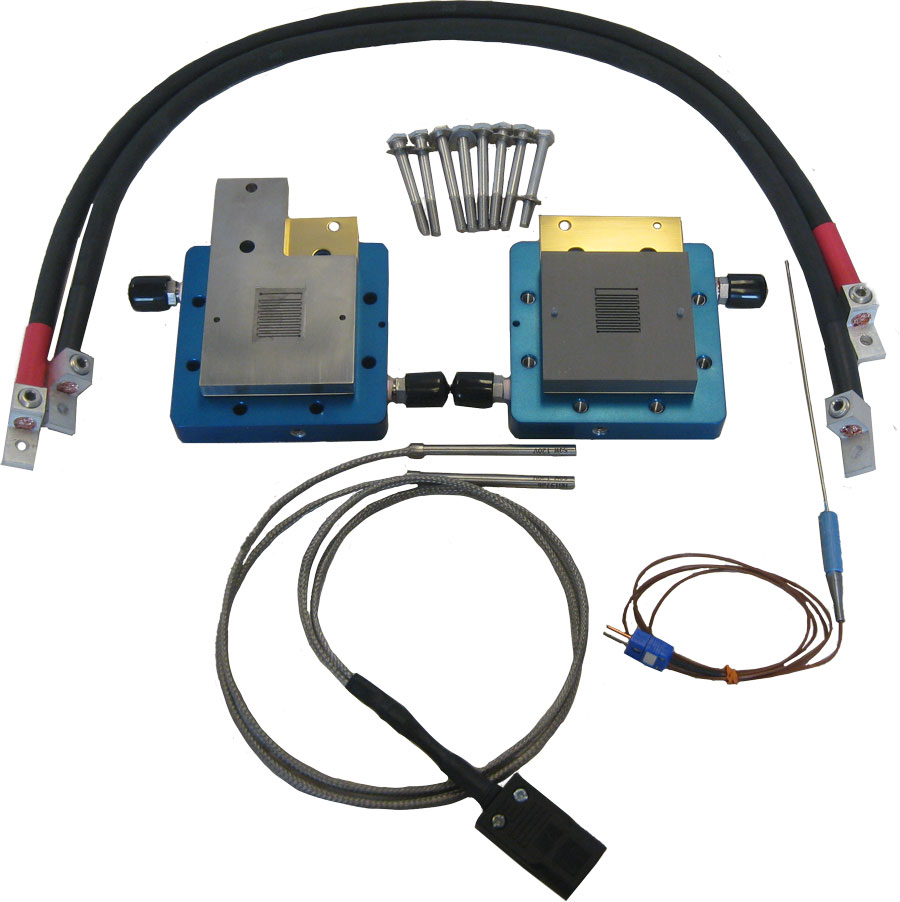 Features:
Dual area fuel cell fixture – suitable for use with 5 and 25 cm2 area cell
Save money – Use the same cell hardware with 2 flow field sizes!
Anodized aluminum end plates standard (also available in stainless steel)
High performance sealed POCO graphite flow fields (2 sizes)
Compatible with Fuel Cell Technologies, Inc. flow fields
Compatible with BekkTech in-plane conductivity cell (BT-112)
Configured for 110 V or 220 V operation
Operating temperature up to 200 oC
Components:
POCO graphite flow fields (2) with precision machined, serpentine flow-pattern (custom designs available on request)
Gold-plated copper current collectors (2)
Anodized aluminum end plates (2) with reactant input/output ports, stainless steel Swagelok compression fittings, cartridge heaters and thermocouple well with 1/16 inch  (1.5 mm) diameter fitting
24" heavy-gauge copper conductor load cables
Gaskets – 51, 152 and 254 micrometer (0.002, 0.006 and 0.01 inch)
Templates for preparation of gaskets
Additional hardware such as bolts, washers, fittings
Options and Accessories:
Anode Reference Electrode
Gore PRIMEA® Membrane Electrode Assembly
GL Carbon SIGRACET® 25 BC Gas Diffusion Media
*Gore®, Gore-Select® and PRIMEA® are registered trademarks of W.L. Gore & Associates, Inc. Sigracet® is a registered trademark of SGL Carbon SE.
Price and specifications subject to change without notice.