NANOBASE
Compact Raman Spectroscopy Imaging System
Description:
The XperRam – C is a compact version of the XperRam – S and is an economical Raman system that offers one laser/filter option. It is not able to be expanded later but carries all the features of the XperRam – S in one system.
The multifunctional Raman imaging system meets your needs through high performance hardware and easy to use software.
The XperRam – C can include includes Confocal/3D Raman imaging and analysis, fast 2d Scanning over a wide area (200µm x 200µm), bright field microscope imaging, up to three laser/filter combinations (532-1064nm), interchangeable and rotatable VPH grating, Photoluminescence and Electroluminescence.
Included as standard
Bright field microscopic imaging
One laser/filter
Interchangeable and rotatable VPH grating selections
Photoluminescence (PL)
Electroluminescence (EL)
 
Nanobase's patented interchangeable VPH grating delivers higher spectral efficiency in your measurement's vs. other technologies.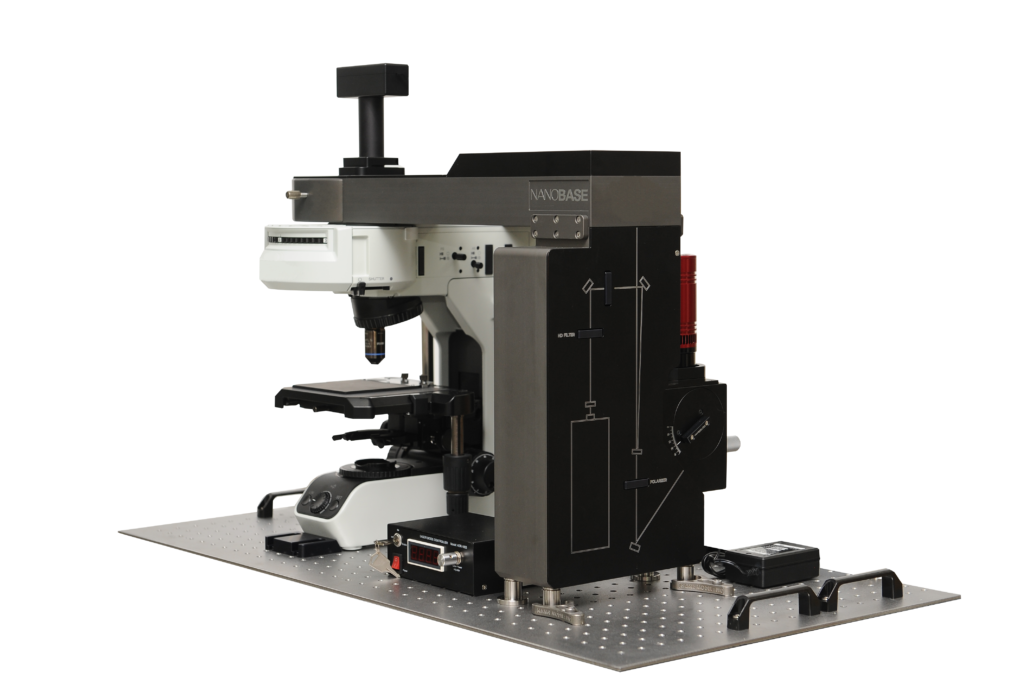 XperRAM-C-2D

XperRAM-C-N

Microscope (Olympus BX43) for 2D Scanning or No Scanning

- Reflected LED illuminator for bright field
- Mechanical 3-axis stage with right-hand control
- Consist of:
1. Main frame of microscope
2. Illuminator
3. Quintuple revolving nosepiece
4. Stage plate
5. Power cable

- Reflected LED illuminator for bright field
- Mechanical 3-axis stage with right-hand control
- Consist of:
1. Main frame of microscope
2. Illuminator
3. Quintuple revolving nosepiece
4. Stage plate
5. Power cable


Objective

40X
- Magnification: 40X
- Numerical aperture: 0.75
- Working distance: 0.63 mm
- >60% transmission from 360 nm to 1000 nm

40X
- Magnification: 40X
- Numerical aperture: 0.75
- Working distance: 0.63 mm
- >60% transmission from 360 nm to 1000 nm


Objective (Other options)

10X, 20X, 50X, 100X
Long WD 40X (recommended for photocurrent)

10X, 20X, 50X, 100X
Long WD 40X (recommended for photocurrent)


Laser Scanning Module for 2D or 3D Scanning functionality

- Wavelength range: 400~1000 nm
- Laser scanning mode: Raster scan
- Scanning area: 200 μm × 200 μm
(when using a 40X objective lens)
- Includes a 3 MP camera for optical image acquisition
(FOV: 220 μm × 150 μm when using 40X)
- A controller is included (USB1.1)


Point Measuring Module for No Scanning functionality

- Wavelength range: 400~1000 nm - Include a 3 MP camera for optical image acquisition (FOV: 200 μm × 150 μm)

Raman Laser Options (At least 1 needed XperRF, XperRam S can choose up to three)

- XperRAM C Series-only 532 nm Freespace
(532 nm Raman PL filter included)
- 405 nm Freespace also available (ask for more info)

- XperRAM C Series-only 532 nm Freespace
(532 nm Raman PL filter included)
- 405 nm Freespace also available (ask for more info)


Optical Raman Filter Options (Choose the ones matching your laser selctions)

System Platform

- 1 slot to adapt a laser ND filter or a polarizer - 2 slots to adapt polarizers or waveplates - 1 DPSS laser is installable. - Provides robust platform for stable beam alignment

- 1 slot to adapt a laser ND filter or a polarizer - 2 slots to adapt polarizers or waveplates - 1 DPSS laser is installable. - Provides robust platform for stable beam alignment

Spectrometer

XPE 35 Monochromator:
- Input aperture ratio: f/5
- Focal length: 35 mm
- A volume phase holographic grating is mountable
(Also, interchangeable).
- Micrometer for adjustment of range of interest
- Spectral range: Max. 8150 cm-1
(Example: ~3400 cm-1 using 1800 lpmm VPH grating)
- Spectral resolution (FWHM): Min. 3.1 cm-1
(Example: 4.4 cm-1 when using a 1800 lpmm VPH grating)
Detector:
- Active pixels 1931 × 1451 pixels
- Pixel size: 4.54 × 4.54 μm
- Dark current: ~0.0002 e-/pixel/sec
- Quantum efficiency: >55% from 400 nm to 700 nm
XPE 35 Monochromator:
- Input aperture ratio: f/5
- Focal length: 35 mm
- A volume phase holographic grating is mountable
(Also, interchangeable).
- Micrometer for adjustment of range of interest
- Spectral range: Max. 8150 cm-1
(Example: ~3400 cm-1 using 1800 lpmm VPH grating)
- Spectral resolution (FWHM): Min. 3.1 cm-1
(Example: 4.4 cm-1 when using a 1800 lpmm VPH grating)
Detector:
- Active pixels 1931 × 1451 pixels
- Pixel size: 4.54 × 4.54 μm
- Dark current: ~0.0002 e-/pixel/sec
- Quantum efficiency: >55% from 400 nm to 700 nm

Grating Options

- 600 lpmm at 600 nm
- 1200 lpmm at 840 nm
- 1800 lpmm at 532 nm
- 2400 lpmm at 450 nm

- 600 lpmm at 600 nm
- 1200 lpmm at 840 nm
- 1800 lpmm at 532 nm
- 2400 lpmm at 450 nm